Lumumba Abdul Shakur:
Not really a father figure for pac, but Lumumba was Afenis Husband while she became pregnant
Billy Garland: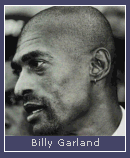 Tupac was born to Alice Fayne Walker and Billy Garland while Afenis Husband Lumumba Abdul Shakur was in jail for bombing a public building. Tupac never knew for sure who his father was, he first time met Billy when he was five, but never had a good relationship to him.
Tupac mentioned William Garland once: "I thought my father was dead all my life. After I got shot, I looked up there was this nigga that looked just like me. And he was my father; that's when I found out. We still didn't take no blood test but the nigga looked just like me and the other nigga's dead so now I feel that I'm past the father stage."
After 2Pacs death, Afeni and Billy sent 2Pacs blood to Long Beach Genetics, who did the DNA testing to find the probability of Afeni and Billy 99.97% parentage.
Mutulu Shakur:
His stepfather Lumumbas Brother, Tupac claims that he's his father, they spent much time together till Mutulu was send to jail. Mutulu was the only father figure Tupac ever had love for.
Legs:
Legs introduced Tupac into THUGLIFE, he also made Afeni Crack addict.
Letters from Mutulu Shakur:
- Mutulu wrote this letter to Tupac the night Pac got shot.
- The letter he wrote to B.I.G's family after B.I.G's murder.