Tupac vs. BadBoy Entertainment:
Thats The notorious BIG, Puff Daddy now P. Diddy, Junior Mafia, and others smaler acts. Tupac accused them to have set him up or didn't warn him in the 1994 NY shooting. Before this time, Tupacs relationship to BIG was pretty good, they recorded some songs like "Runnin'" etc. and the chilled out together. Tupac never talked about BIG or Puffy in his early songs, he just started dissing Bad Boy after he was in jail for the sex trial in '94. He went to jail and Bad Boy got bigger as Tupac had to hear about the circumstances of his shooting from jail. The Junior Mafia beef was the same too except Tupac knew them well. He said in an interview that he used to support them and Biggie and give the members of Junior Mafia money to get home on the train. The notorious BIG was shot in March 1997 in a drive by shooting in Los Angeles. BIG's "Live After Death" is still the best selling rap album ever, it has sold more then 10 million copies.
LL Cool J: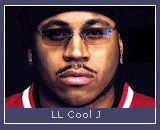 The 2Pac LL Cool J beef also started in late '95. He even praised LL in the song "Old School" on Me Against the World for his early songs. But 2Pac thougt LL Cool J went mainstream and acted like a Thug. He also had a album produced by Puff Daddy. Tupac has an unreleased song called "Little Homies" where he disses LL Cool J
Dr. Dre:
This was kind of a strange rivalry because Tupac and Dre were thought to be close especially after California Love. I have heard three points of view on this though. Tupac says it was because Dre wasn't doing anything at Death Row and was taking credit for other people's work. Tupac didn't like him for this and also for the fact that Dre never appeared at Snoop's trial to support him although it seems that Tupac was more upset over this than Snoop. Dre never really commented on it except he said that Tupac and him never hung out and Tupac didn't know him so he shouldn't be dissing him. The final story on this was really shocking and came from Suge Knight in an interview which can be seen on the Thug Immortal video. Suge Knight doesn't name names but he basically says that Dre is gay and that Tupac didn't want him to be a part of Death Row because Dre had a lover working for him while he was married with children. I suggest watching this interview for the full story but this is consistent with Tupac calling him gay on several songs. Specific quotes included "that nigga sittin' up in his mansion suckin' dick, eatin' p*ssy" plus in a number of his songs he says stuff like "we shook Dre punk ass, now we out of the closet" and "check your sexuality it's fruity as this alize" along with "California Love Part II without gay ass Dre."
Moob Deep: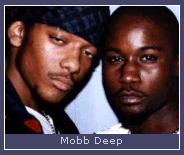 This beef started when Tha Dogg Pound released New York, New York. Mobb Deep took offense to that and with Tragedy and Capone N Noreaga (two other NYC artists) they released LA, LA. There were 2 versions and one version used that same beat and in both versions the chorus was the same as from NY, NY except for a little change at the end. Now Tupac took offense to that and that's why he dissed Mobb Deep. The only thing I know Mobb Deep to have said before Tupac released Hit 'Em Up was in an article from RapSheet when they were discussing the East/West Coast beef with artists from both sides Mobb Deep said the way Tupac turned on NY was wrong and said they would buy a Snoop album but they would never buy another Tupac album. I think Havoc might have said this. Also, in the "Thug Immortal" interview, Tupac described why he didn't like Mobb Deep. He said that before he went to prison, he was cool with them. Then when his West Coast crew came to NY to Mobb Deep's concert, Mobb Deep ignored them. He said his crew tried to meet up with them after the show yelling "Thug Life", but they dissed them. What made Tupac even madder was that one of the guards he knew in prison also knew Mobb Deep, so after Tupac told the guy to tell Mobb Deep that his boys were coming, he took it as an insult when they dissed them. Then Tupac came out with Hit 'Em Up...called Prodigy out about his sickle cell anemia and that's when Mobb Deep responded with Drop A Gem On 'Em which appeared on their new album. Since Tupac's death, Mobb Deep has shown a lot of respect for him though.
Jay-Z:
Not much to say, Jay-Z dissed Pac on the "Reasonable Doubt" album on the song "Brooklyn's Finest." Then Tupac dissed Jay Z back on "Bomb First." This song pointed at the beef with Jay-Z coming from him sticking up for Mobb Deep. Tupac also disses Jay-Z on his newest album "Until the end of time" on the Song "All Out"