Tupac Immortalized in Wax At Madame Tussauds
Posted April 6 2006, 09:56 am by BSweet

Tupac Shakur, the rap world's greatest figure, will now be immortalized in wax at the world-famous Madame Tussaud's in Las Vegas at the glorious Venetian Hotel. The brand new sculpture will be unveiled on April 5, 2006 at a ceremony commencing at 11:00 A.M.
The wax portrait of Tupac is being sculpted by Jeni Fairey of Madame Tussaud's London, who has previously crafted Beyoncé for the museum. The sculpture will be based on the now-iconic image of a shirtless Tupac sporting a bandana and proudly displaying his tattoos. Aside from Beyoncé, Tupac's wax likeness will join the ranks of the celebrities who have forever made their mark on the world, including Prince, Bono, Jennifer Lopez, George Clooney, Elton John, Will Smith, Lenny Kravitz, James Brown, Elvis Presley and Shaquille O'Neal.

The Tupac wax figure will be created from hundreds of photographs and measurements provided to Madame Tussaud's by Ms. Shakur. Each of Tupac's tattoos will first be redrawn and then individually hand-painted onto the sculpture. The finished effigy will take months to complete, involving more than 700 hours of work and over 330 pounds of clay. The entire figure will way around 55 pounds. To put Tupac in his own environment, Madame Tussaud's is in negotiations with 2Pac's old label, Interscope Records, to license the original music from Tupac's world and to add a layer of reality to the unique "Tussaud's experience."
To commemorate the historic 10th Anniversary of Tupac's passing, Madame Tussaud's is considering sending the new wax figure on its own world tour later this year. Once it has been viewed at the Las Vegas museum, the sculpture is destined to travel to the galleries in New York, Hong Kong, Shanghai and London before it will be exhibited at the Tupac Amaru Shakur Center for the Arts (TASCA) in Atlanta for a full month. The figure is scheduled to arrive at the Center towards the end of this memorial year.
Tupac Shakur has consistently been the celebrity most requested to receive a wax tribute from Madame Tussaud's Las Vegas museum. The sculpture's unveiling arrives nearly ten years after Tupac's death in Las Vegas and it will be exhibited for 300 years to come.
---
A Taste Of Africa Via Atlanta's Tupac Amaru Shakur Center
Posted January 28 2006, 03:21 pm by BSweet
Felton Eaddy's "I Love Africa" Traveling Museum will be a featured exhibit at the Tupac Amaru Shakur Center for the Arts (TASCA) in Atlanta next month in honor of Black History Month. Roughly 40 pieces of artwork from all over Africa will rotate and be available for public viewing.
On-site field trips will provide students, amongst others, the opportunity to view such authentic African artifacts as Gullah baskets, masks, Zimbabwean musical instruments, dolls and handcrafted Ashanti tribe art. Other pieces include poems, songs and cultural stories.
The "I Love Africa" exhibit will be available for viewing between February 22nd and 24th, 2006 during the Center's normal working hours (10 a.m.- 5 p.m.). For additional information, check out TASF.org.
Source: SoundSlam
---
Tupac federal files to be published?
Posted December 7 2005, 11:49 pm by BSweet
The National Archives may get a collection of Tupac records. Not the rapper's discs. All government records "relevant to the life and death of Tupac Amaru Shakur,"according to a bill being floated in Congress by Democratic Rep. Cynthia McKinney of Georgia.
Shakur, whose sociopolitical lyrics and gangsta image made him one of rap's most popular artists, was fatally shot in Las Vegas in 1996. The crime was never solved, and rumors continue to swirl about the possible involvement of police and government agencies.
"His family and his family of fans have the right to know what happened on that fateful night,"McKinney said recently. "The public has the right to know because he was a well-known figure. There is intense public interest in the life and death of Tupac Shakur."
The bill is modeled on the John F. Kennedy Assassination Records Collection Act of 1992 and calls for the disclosure of government records related to Shakur "to enable the public to become fully informed about the history surrounding his life and death."
The records would be stored in the National Archives, with another set at the Tupac Amaru Shakur Center for the Arts, an organization in Georgia.
Source: Newsweek
---
2Paclegacy.com updated
Posted September 14 2005, 10:49 pm by BSweet
2Pacs official website as been updated to promote the upcomming release of the poetry album "The Rose vol. 2".
click here to listen to snipets of the new album.
---
Feds Re-Open 1994 Tupac Shakur Shooting Seeking Clues In Rapper's Murder
Posted September 14 2005, 10:48 pm by BSweet
The unsolved shooting at Quad Studios in New York in 1994 involving Tupac Shakur has been reopened, anonymous law enforcement officials revealed to AllHipHop.com.
Sources stated the U.S. Attorney for the Southern District of New York has reopened the case to see if the shooting was somehow connected to Shakur's death in 1996 in Las Vegas, Nevada.
Shakur was shot 5 times in the lobby of Quad Recording Studios in November of 1994, after being invited to the studio to record.
In December of 1994 Shakur was charged with sexually assaulting a woman in a New York hotel room. Shakur denied the charges but was found guilty and sentenced to prison in February of 1995.
The rapper recovered from his gunshot wounds and signed with Death Row Records in October 1995 while serving his time.
On September 7, 1996, Shakur was gunned down in Las Vegas, Nevada following a Mike Tyson fight.
On September 13, Shakur died from his injuries. No one has been arrested for the murder of Shakur.
A number of theories exist and according to sources, law enforcement officials are investigating if the shootings were connected.
"They are investigating the Quad shooting and other unsolved murders related to the Hip-Hop business," the source told AllHipHop.com. "No one was killed in the Quad incident, so that aspect is dead as an investigation. But what they are investigating is the shooting's connection to Tupac's murder in Las Vegas."
The source stated that a big focus of the investigation is Jimmy "Henchmen" Rosemond.
Rosemond currently acts as manager for superstar rapper The Game, R&B singer Sharissa and R&B crooner Mario Winans through his New York based company, Czar Entertainment.
Rosemond and Shakur were known associates.
In published interviews before his untimely demise, Shakur said that he met Rosemond while attempting to earn money by doing guest appearances on various rapper's songs when he was strapped for money due to a myriad of legal issues.
The relationship immediately soured after Shakur was shot in the lobby of Quad Studios, with a number of Hip-Hop heavyweights present, including Sean "Diddy" Combs, Christopher "Notorious B.I.G." Wallace, Lil' Cease, Andre Harrell and others.
Shortly afterwards in published interviews and on commercially released recordings, Shakur accused Sean "Diddy" Combs, Notorious B.I.G., Rosemond and others of directly or indirectly being involved in the robbery and subsequent shooting.
On the legendary song "Against All Odds " Shakur took many enemies to task and called most out by name. Shakur rapped:
"Promised a payback, Jimmy Henchmen in due time/I knew you bi**h ni**az was listening/The World is Mine/Set me up, wet me up, ni**az stuck me up/Heard the guns bust, but you tricks never shut me up/Touch one of mine on everything I own I'll destroy everything you touch/play the game ni**a."
Rosemond denied Shakur's allegations and stated that an investigation would yield little, because he is innocent.
"It's a shame that after 11 years of the Quad shooting and nine years after Tupac's death people would still circulate my name in the nonsense," Rosemond told AllHipHop.com. "I support any investigation into both incidents, in fact I would finance the investigation so the truth can come out. Tupac was a very good friend of mine and it hurts me deeply that there are people out there (including people in jail) that would like to assassinate my character and make me hip hop's villain."
A simple search of Henchmen's name on the internet returns thousands of results, most connecting him or accusing him of being behind the Quad shooting along with Jacques "Haitian Jack" Agnant and Walter "King Tut" Johnson, who is currently serving time in federal prison.
"I won't be anyone's scapegoat or anyone's 'get out of jail' free card, Rosemond said. "I stand behind my integrity and veracity that I have built in this business for 12 years. My contribution to Hip-Hop and the music business can't be torn down by rumors nor hearsay. I pray for the Shakur family and for justice at the same time."
Representatives for the United States Attorney for the Southern District of New York were unavailable to comment due to the pending investigation.
Source: AllHipHop.com
---
"The Rose vol. 2" cover
Posted September 11 2005, 11:53 am by BSweet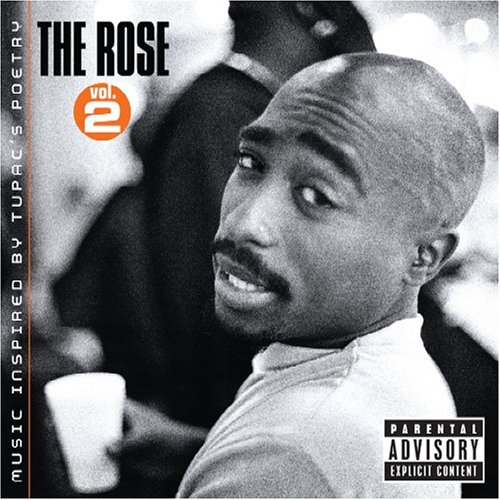 ---
"The Rose That Grew From Concrete" vol. 2 release date
Posted September 11 2005, 11:32 am by BSweet
LOS ANGELES (Amaru Ent.) - On September 20th, a number of hip-hop and R&B's top artists will take a brand new approach to using Tupac Shakur's poetry in song, paying tribute to the late rapper in his own words on "The Rose, Vol. 2 - Music Inspired by Tupac's Poetry." Unlike its predecessor, "The Rose, Vol. 2" is not a spoken word album - instead, each musical artist has taken inspiration from one of the poems in Tupac's "The Rose that Grew from Concrete" book and used portions of the poems to build their own original songs, with Tupac's poetry serving as their muse. Released by Amaru Entertainment, "The Rose, Vol. 2" features 15 fresh tracks from an array of genres, including rap, hip-hop, soul and R&B offerings. The guest artists on "The Rose, Vol. 2" include Ludacris, Lyfe Jennings, Bone Thugs -N- Harmony, The Outlawz, Memphis Bleek, and Talib Kweli, among others.
Celina Nixon, a former member of "Pac's Kids" (the students of the annual Tupac Summer Performing Arts Camp) and now the Artistic Director for the Tupac Amaru Shakur Foundation (TASF), provides the song, "The Eternal Lament," while another piece - a poem and vocal solo blend entitled "Poetry" - is written and performed by current "Pac's Kids" Morgan McKenzie (16 years old) and Amber Granderson (15 years old). It is especially noteworthy that Celina Nixon, Morgan McKenzie and Amber Granderson are three talented young women who all honed their musical skills through attending the Tupac Summer Performing Arts Camp year after year.
Perhaps the most unexpected appearance comes from Digital Underground's Shock G (AKA Humpty Hump), the man most responsible for launching 2Pac's solo career, by giving him his first prominent introduction and then allowing him the chance to perform his own verse on the Underground's smash hit single, "Same Song."
The track listing for "The Rose Vol. 2" is as follows:
1. Intro feat. Black Ice
2. Power of a Smile feat. Bone Thugs N Harmony
3. The Eternal Lament feat. Celina
4. Fallen Star feat. Talib Kwali
5. In The Depths of Solitude feat. Ludacris
6. Movin On feat. Lyfe Jennings
7. Life Through My Eyes feat. Memphis Bleek & Tupac
8. When Ure Heart Turns Cold feat. The Outlawz
9. Black Woman feat. Jamal Joseph & Che Davis
10. Only 4 The Righteous feat. Yoyo
11. Where There is a Will... feat. Boot Camp Clik
12. When Ur Hero Falls feat. Impact Kids
13. And 2morrow feat. Shock G
14. If I Fail feat. Dead Prez
15. Poetry by Amber & Morgan of Pacskids
The timing of the CD's release corresponds the 9th anniversary of Tupac's untimely death, and with the unveiling of the new bronze Tupac Memorial Statue in Atlanta on September 13. The statue will be located in the 6-acre Peace Garden at the Tupac Amaru Shakur Center for the Arts. The Center just recently opened Phase 1 of its 3-stage construction in Atlanta. Proceeds from sales of "The Rose, Vol. 2" will go to benefit the Tupac Amaru Shakur Foundation, which - along with fan and corporate donations - is raising the $3 million needed for the completion of the Center, which will serve as Tupac's ultimate legacy: providing a safe place where youths from all backgrounds are free to express themselves creatively through the arts. For additional information, go to: www.2PAClegacy.com OR www.TASF.org
---
TASF Center Flyer
Posted June 3 2005, 02:54 pm by BSweet
Because of the upcoming opening of the "Tupac Amaru Shakur Center For The Arts", Amaru released this flyer.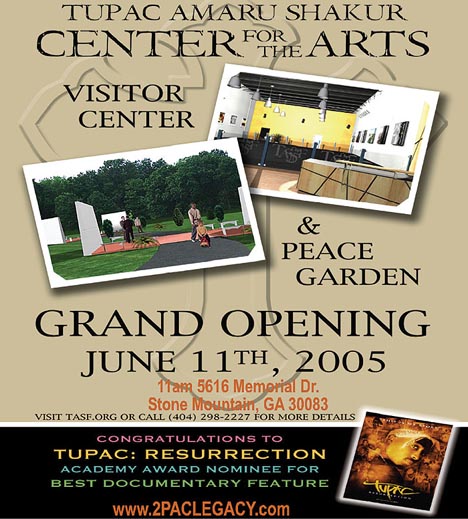 ---
Afeni Shakur Announces Opening Date For Tupac Amaru Shakur Center
Posted May 26 2005, 10:29 am by BSweet
The culmination of Afeni Shakur's dedication to son Tupac and America's youth has finally come to fruition.
The activist has announced that the Tupac Amaru Shakur Center for the Arts in Stone Mountain, Georgia will open on June 11.
The $4 million dollar facility was mostly funded by royalties received from the deceased rapper's albums, DVD's and film projects.
The six-acre campus will focus on mentoring high-risk youth between the ages of 12-18 and includes offices, a visitor center, a gift shop, an art gallery a peace garden and other offerings.
"Nobody is more infatuated with the energy of young people as me," Afeni Shakur told AllHipHop.com. "I'm looking at them run into a fire and nobody is saying it's hot."
Shakur said the center will eventually grow to accommodate more youth and will include classrooms, a performing arts theater, a community meeting space, a museum and a bronze statue of Tupac – which will be unveiled in 2006 – are being planned.
The statute of Tupac will stand at the center of the garden, inside a fountain in the shape of a gothic cross, an image frequently associated with Shakur's releases.
"We hope that people will come to the peace garden and share a peaceful energy," Shakur said. "This is what God has put me here to do. I love young people. I need to emphatically stay on this course."
Tupac Shakur was shot multiple times in Las Vegas, Nevada on September 7, 1996 after attending a Mike Tyson fight. He died seven days.
Shakur's murder and the subsequent murder of friend-turned-rival Christopher "Notorious B.I.G." Wallace six months later, remain unsolved murders.
Source: http://www.allhiphop.com/hiphopnews/?ID=4432
---
Green Day frontman wanted Green Day to be like 2Pac
Posted April 8 2005, 11:34 am by BSweet
Green Day frontman Billie Joe Armstrong turned to an unusual source of inspiration when mapping out his band's plan for world domination - rapper Tupac Shakur.
The AMERICAN IDIOT singer admired tragic Shakur - who hailed from Green Day's California hometown - because he was never constrained by rules or expectations.
As a result, Green Day set out to break all the rules of rock 'n' roll - in the same way Shakur did in the hip-hop industry.
Armstrong says, "Tupac Shakur grew up in Oakland, too. Whatever you think of him, you don't feel he was contained by rules.
"With rock, you feel there are codes of conduct and codes of cool but with Tupac he just came right out with it.
"I admire that. Music needs that. And that's what I wanted for Green Day."
---
2Pac - "Ghetto Gospel" video has been released
Posted March 9 2005, 11:30 am by BSweet
Interscope has just released the first video for Tupacs album "Loyal To The Game".
View video in Windows Media Format
View video in Real Media Format
If you can't get the links to work, visit http://www.interscope.com/2pac to view the videos
---
Oscar Party for "Tupac: Resurrection"
Posted February 21 2005, 04:43 pm by BSweet
In celebration of the Best Documentary (Feature Length) Oscar nomination for "Tupac: Resurrection," Amaru Entertainment will be hosting an exclusive star-studded viewing party at Atlanta's Compound. The screening party will correspond with the broadcast of the Academy Awards, which will be simulcast live from Los Angeles' Kodak Theatre at 8 p.m. EST; 5 p.m. PST.
The viewing party is also being held as a fundraiser for the Tupac Amaru Shakur Foundation (TASF), founded by the late rapper's mother, Afeni Shakur (who also served as executive producer of the documentary with Lauren Lazin).
The party will also serve as a chance for both individuals and corporations to contribute to TASF, which is funding -- among other projects -- the forthcoming Tupac Amaru Shakur Center for the Arts, a combination museum, theater and performing arts school for underprivileged youths. The Center, to be located in Stone Mountain, GA., is scheduled to open Phase 1 of its operation in June, 2005. For more information on TASF, visit www.tasf.org
---
"Loyal To The Game" goes platinum
Posted February 18 2005, 10:26 am by BSweet
9 weeks after it's release, 2Pacs latest album "Loyal To The Game" has been certified platinum by the riaa.
---
2Pac bootleg enters Billboard Charts
Posted February 11 2005, 03:56 pm by BSweet
The recently released, unauthorized 2Pac album "Do or Die" has entered the Billboard charts at #40 with 29,263 copies sold in its first week. Two places above, "Loyal To The Game" has landed with 29,538 copies sold.
---
Suge Knight Arrested For Violating His Parole
Posted February 8 2005, 03:08 pm by BSweet
Death Row founder Marion "Suge" Knight was arrested on Saturday evening (February 5) in Barstow, California, after police officers discovered marijuana in a pick-up truck he was driving during a traffic stop. The Associated Press reports that Knight was pulled over after making an illegal U-turn. Knight was booked on suspicion of violating his parole and will be held until he is transferred to a state prison this week. Authorities will then review the case to determine whether or not the mogul should be released. Knight was also charged with not having insurance.
An 18 year-old passenger in the truck, Alexis Wilkenson, allegedly had fake ID and was charged with giving police false information. She was released.
Knight is also currently under investigation in relation to the Vibe Awards brawl which took place in November. The man who allegedly attacked Dr. Dre has implicated Knight. Jimmy James Johnson told authorities that Knight paid him to attack and humiliate Dr. Dre.
Knight and Dr. Dre founded Death Row Records in the early '90s. The label's roster included: Snoop Dogg, Tupac Shakur, Kurupt, and Dr. Dre, but in the mid-'90s, Dre decided to leave the company due to Knight's business tactics. The two have been at odds since.
Knight later went to jail in 1997 for assault and a probation violation. He was released in 2001 but served 61 days in 2002 and 10 months in 2003-2004 for violating the terms of his parole.
Source: Launch.com
---
Tupac: Resurrection nominated for Oscar
Posted January 25 2005, 04:13 pm by BSweet
The 2Pac biography movie "Tupac: Resurrection" has finally been nominated for an Oscar as best Documentary Feature.
The other nominated Movies in this cathegory are:
Born Into Brothels
The Story Of The Weeping Camel
Super Size Me
Twist of Faith
The 77th Annual Academy Awards will be held on February 27, 2005.
---
2Pac Chart Position Update
Posted January 13 2005, 11:01 am by BSweet
"L.T.T.G" fell down 6 places on the Billboard Top 200 album charts. 55,306 copies sold make the #14 summing up to a total of "L.T.T.G" 721,229 copies sold.
---
The forgotten veterans
Posted January 7 2005, 10:48 am by BSweet
(by Brother Salim Kujitawala of sfbayview.com) In the late 1960s, the Federal Bureau of Investigation, under the direction of J. Edgar Hoover, initiated the Counter Intelligence Program, COINTELPRO. Targeted towards Black community organizations and activists, COINTELPRO tried to prevent organizations from mobilizing Black people.
The FBI was instructed to infiltrate many organizations, such as the Black Panther Party for Self Defense, the Student Nonviolent Coordinating Committee (SNCC), Southern Christian Leadership Conference (SCLC) and the Nation of Islam (NOI), and to disrupt, discredit and misdirect the organizations. In some instances, the FBI worked with local police departments to create false charges and evidence to convict members of these organizations for crimes they did not commit.
These sisters and brothers are known as political prisoners of war. Political prisoners include Janet Holloway Africa, Sundiata Acoli, Mumia Abu Jamal and Dr. Mutulu Shakur, the father of Tupac Shakur. There are also Imam Jamil Al-Amin, Jalil Muntaqim, Bashir Hameed, Robert Seth Hayes and many more. Even Dr. Martin Luther King Jr. was a victim of COINTELPRO and held as a political prisoner.
Actions and programs they participated in were food, clothing and voter registration drives. Other programs included free breakfasts for children, free medical clinics for people with sickle cell anemia and housing for the poor. They also built independent schools and helped Black people to overcome drug addictions.
Though still incarcerated, they still continue to organize. Dr. Mutulu Shakur has worked to bring about gang truces in the prison system and has addressed issues regarding the Hip Hop community. Robert Seth Hayes has helped to educate prisoners about HIV.
Currently, political prisoners are organizing a program to deliver medical and school supplies to orphans with AIDS in Africa. Former Black Panther Party member Jalil Muntaqim has inspired this action.
Now it is time to help them. Political prisoners are the frontline soldiers of the Black community. They have fought and continue to fight in the longest war America has known, the war for Black liberation. Many of them are abused, denied proper medical care and locked in cells for 23 hours a day.
They have sacrificed their family, friends, goals and careers to literally fight for the human and civil rights of Black, Latino and other oppressed people. As a result, they have lived a very large portion of their lives behind bars.
Not only have they suffered, but so have their families, friends and the entire Black community. How can they be helped? One can write a letter to a political prisoner.
One can also write letters to the governor and parole board of the state the political prisoner is incarcerated in. Financial contributions can be made to the commissary of political prisoners as well.
The release of Black political prisoners of war is an unconditional demand of FULL AND COMPLETE REPARATIONS for African people in America. The fact is, Europeans waged a war on African people when they kidnapped the African people and brought them to America to fulfill their political and economic aspirations of building a new country.
This makes all Black people being held in prisons political and economic prisoners of war, because they would never be in prison if they weren't taken hostage and brought to America in the first place.
For more information on political prisoners, contact the Jericho Movement at P.O. Box 340084, Jamaica NY 11434, (718) 949-3937, info@thejerichomovement.com, www.thejerichomovement.com.
Brother Salim Kujitawala lives in Hawaii. Email him at gyenyame@thetalkingdrum.com. Political prisoner Robert Seth Hayes, in a recent letter to the Bay View, reports that he has just been moved to a smaller prison, where he hopes better medical care will be available, and that he has finally received the transcripts from his July parole board hearing, where he was denied parole for two more years. Despite the delay, probably an effort to forestall appeals, he is confident that he and his lawyer will "get the job done." Write him at: Robert Seth Hayes, #74A2280, P.O. Box 1187, Alden, NY 14004-1187.
---
"Loyal To The Game" climbs up to #8 on Billboard charts
Posted January 6 2005, 11:19 am by BSweet
Having 115.000 albums sold in its third week, Tupacs latest album climbed up from position 13 to position 8 on the Billboard Top 200 album charts.
---
Bushwick Bill Supports Tupac On New Year's Day
Posted January 4 2005, 10:32 am by BSweet
Geto Boys member Bushwick Bill will be featured as a celebrity guest model at the First Annual Makaveli Branded Fashion Show, the clothing line launched by Tupac Shakur's mother, Afeni Shakur.
"It is significant that this event is being held in Los Angeles on New Years," Bushwick Bill said. "This day represents the birth of a new year, and this clothing line, owned by his mother, Afeni, is one more way of representing the streets and the realism of his life and hip-hop style. Through his clothing, we are sending a reminder of Tupac's words and messages."
Bushwick Bill and Tupac Shakur were personal friends, introduced to each other by Naughty by Nature rapper Treach.
In addition to admiring each others art, the two also shared a mutual appreciation for music.
"Pac had just finished filming Juice, and he told me he always loved the Geto Boys and the intelligence I expressed in interviews," Bushwick Bill continued. "His whole energy of how he felt about my music told me that he was a fan of the music, and not just an artist. That gave me an insight as to how I should feel as an artist about the music. To him, music was oxygen."
The event is also a celebration of Shakur's latest chart topping album, Loyal to the Game.
"For those of us who were personal friends of Tupac, the clothing line has a special meaning," Bushwick explained. "Because Tupac has always expressed his life experiences through hiphop music, and because those of us who have traveled these roads know the truth, I feel blessed to stand up for something that is right and that is true, and in this case, the clothes are the extension of the man."
Other guests to the fashion show include Lisa Raye, Jon B., The Outlawz, Warren G., Cedric The Entertainer, Eazy E's son Lil' E, who will debut his new single that features Shakur and The Notorious B.I.G. and others.
The show takes place at Los Angeles' famed Century Club and will also feature several DJ's spinning tributes to Shakur.
In related news, Bushwick will be drop a solo album, Gutta Mixx, on Adex Records on March 8.
Source: AllHipHop.com