With his friends-including actors Mickey Rourke" and Jasmine Guy-rallied around, Tupac sat through the morning session before his right leg went numb. He then went uptown and secretly checked into Metropolitan Hospital Center on East 97th Street under the name of Bob Day.
Several hours later, the jury came back with verdicts on Tupac and Fuller: guilty of fondling the woman against her will-sexual abuse-but innocent on the weightier sodomy and weapon charges. A few jurors argued for full acquittal and viewed the verdict as a compromise. "There was a very strong feeling that there just was not enough evidence," says juror Richard Devitt.
"We're ecstatic that the jury found that there was almost no merit to these charges whatsoever," said Tupac's beaming lawyer, Michael Warren. He plans to appeal the sexual abuse conviction. Sentencing was delayed due to Tupac's condition, and he remained free on $25,000 bail.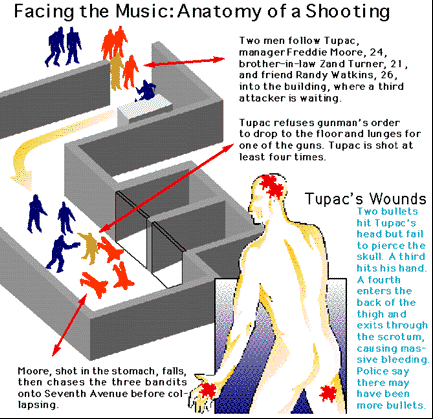 For the second time in eight weeks, Tupac had beaten a felony rap. On October 7, in Atlanta, Fulton County DA Louis Slaton dropped the aggravated assault charges filed against Tupac on October 31, 1993. Tupac and his posse had shot two off-duty police officers in the buttocks and abdomen, but witnesses told the DA that Tupac and company had fired in self-defense after Officer Mark Whitwell fired at them. Whitwell resigned from the force seven months after the shooting.
Some conspiracy theorists leaped to the conclusion that Tupac had been set up and that the "robbery" was a payback for his perceived attacks on police; others concocted a revenge plot by the rape accuser. Tupac's lawyer fanned the flames, citing his' client's exaggerated suspicion of cops to explain his flight from the hospital.I The lawyer rejects the notion that this was a simple robbery: "These circumstances give rise for a reasonable person to raise an eyebrow."
The shooting of a young black man has rarely generated so much attention. "I hope people realize that the black male is under attack," says Nation of Islam minister Conrad Muhammad, who was on hand at the courthouse. "This is a wake-up call to the young men in the music industry. You have a moment onstage, a moment before the world-what will you do with it?"
Reporting by Eric Berman, Rob Kenner,
Ian Landau, Danyel Smith, Joe Tirella,
Josh Tyrangiel, Mimi Valdes, and Elizabeth Yo