And the light shineth in the darkness; and the darkness comprehended it not.
-John 1:5
Day One, Saturday, September 7: Mike Tyson is a thug's champion. Mighty but vulnerable, streetwise but naive, standing in a precarious place despite his wealth. The place is special in the hearts of hustlers. A Tyson fight is an unofficial gangsta party. It's where the ghetto elite meet: rich niggas with nothing to lose, indulging their contradictions.
The anticipation builds as colorfully dressed folks file into the MGM Grand on this hot Las Vegas evening. Inside, playas like Stacey Augmon, New Edition, Gary Payton, Too Short, and Run-DMC settle in. Among the 'bangers, ballers, dealers, and denizens in the VIP section are two of America's most infamous: Marion "Suge" Knight, the Death Row Records CEO who's made no secret of his affiliation with the Bloods, and his quintuple-platinum superstar, Tupac Shakur.
The bell dings, and Mike Tyson makes quick work of a hapless Bruce Seldon. Too quick for the crowd's taste. The mood after the 109-second fight is ugly, but Tupac is gleeful, jumping about like a little boy. "Did you see Tyson do it to 'im? Tyson did it to 'im! Did y'all see that?" says 'Pac, baiting a camera crew in the MGM lobby. He becomes more and more animated talking about Mike. "Did y'all see that? Fifty punches! I counted, 50 punches! I knew he was gon' take him out. We bad like that. Come out of prison and now we running shit." Suge, smiling at 'Pac's antics, grabs his arm and coaxes him away from the camera.
Tupac returns to his room at the nearby Luxor, a massive black pyramid with a brightly illuminated top. According to a close friend, he's slightly upset because he couldn't find his road dawgs, the Outlaws, who were supposed to be at the fight with him. "He complained of getting into a scrap with some Crips."
Back outside the MGM, an amateur videographer catches 'Pac and Suge waiting for their car, surrounded by a bevy of women. Tupac has changed from the brushed silk shirt he wore to the fight to a black basketball jersey that better exposes his tattooed biceps and the diamond-and-ruby-encrusted medallion hanging from his neck. On it is an angel in waiting, wings outspread, gun in hand.
Well it's time to ride / I'm ready to die right here tonight / And motherf*ck they life / That's what they screamin' as they drill me / But I'm hard to kill, so open fire.
-2Pac, "Ambitionz az a Ridah"
Eleven-fifteen p.m. finds Suge and 'Pac turning off Las Vegas Boulevard onto Flamingo, heading east toward Suge's Club 662 in a black BMW 750, presumably to get their party on. Several women in an Oldsmobile flash 'Pac and Suge. Suge's at the wheel and 'Pac's next to him, his window down. He's all smiles, yelling to his fans, inviting them to join the party. Leading a convoy estimated at anywhere between six and 15 cars, the BMW stops at a red light in front of the Maxim Hotel-just beyond the Strip, where the neon and hubbub end and the darkness of a desert town begins.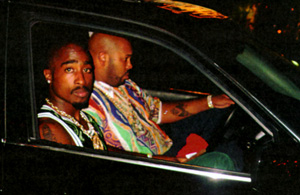 A late-model white Cadillac with California plates pulls up to the right of the BMW. One of its four passengers takes out a high-caliber firearm. "I heard these sounds and thought it was someone shooting in the air," says an eyewitness who was idling three cars back, "but then I see sparks fly from the gun." Between 10 and 15 shots ring out. Lead pierces metal, glass, flesh. Two bullets tear through Tupac's chest, one through a hand, one in a leg. Bullet fragments graze the top of Suge's head. The Cadillac peels off to the right, heading south down Koval Street. With two tires blown out and the windshield shot through, Suge floors his Beemer, screeching into a wild U-turn against oncoming traffic as vehicles scatter.
Two policemen at the Maxim on an unrelated call hear the shots and see the commotion. They immediately give chase. According to a friend of Suge's, who was told the details later, Tupac is now bleeding through his jersey. "Gotta keep your eyes open," 'Pac says to himself. Suge stops the car and the police arrive. Tupac is stretched out in the back of the BMW bleeding profusely. Ambulance lights flash. "There was blood everywhere," says one witness.
"Get down!" yells a policeman, pointing a shotgun at Suge.
"I gotta get my boy to the hospital," Suge says.
"Shut up. Get down!" Suge bends his knees to the ground.
Across town, a white Cadillac slips quietly away into the night. "I'm dying, I'm dying," says Tupac as he's being brought into University Medical Center's intensive care unit. He's lost a lot of blood. He undergoes the first of two complicated operations. Afterwards, Tupac's mother, aunt, and friends-including Mike Tyson, Jasmine Guy, and Jesse Jackson-rush to his side.
Day Two: Within hours the shots have been heard 'round the world. Two years after the last attempt on his life, hip hop's Lazarus has caught bullets once again and no one knows what to think. Will he die? Will he return from this ordeal larger, more invincible? It's difficult to imagine such a kinetic and volatile figure lying immobilized. This, after all, is the same man who got into a gun battle with cops on an Atlanta street and bopped out of the courtroom unscathed. The same man who survived five bullet wounds in a 1994 Times Square ambush. The same man who, though convicted of sexual abuse, left a New York jail richer and more popular than when he went in. " 'Pac will be all right," says a family member. "He'll pull through."
Predictably, the media jumps on the gangsta image, the court cases, the prison terms, and the thuggish lyrics Bob Dole denounced. But his friends recount other stories. "I've always known him to be gracious, humane," says hip hop mogul Russell Simmons. "All this gangsta stuff, I've never seen it. I remember him dancing with this woman in a wheelchair for four hours when everybody else was drinking and partying. That's how I knew the man. He's a total sophisticate: intelligent, articulate."
"He looks like a sleeping black angel," says a close friend, after visiting Tupac in the hospital. "I talked to him, touched him. I told him to go to his light."
The members of Suge's Death Row entourage are questioned by police, but provide little information. Sergeant Kevin Manning of the Las Vegas Police Department says, "They were not quite candid," about the circumstances surrounding the shooting.